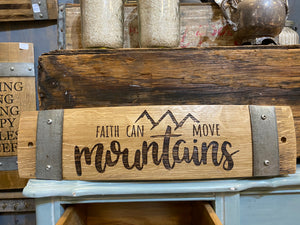 Faith Can Move Mountains - Wine Barrel Stave Sign
New Product!!
We can custom personalize a sign for you as well. Simply choose the "Custom Personalized" variant (extra $12.00 charge) and leave us a detailed description in the Personalization box.
Please be as descriptive as possible including Font style, Text, layout design, pics or images you may wish to add. If possible, send us a drawing of the sign you wish to create. No judgement on the quality of your drawing, I can't draw anything more than stick figures myself :)
These signs were hand crafted from Napa Valley Wine Barrels then laser engraved in-house.
They will look great in your bar, kitchen, entry way, office or any place you gather to enjoy wine with your friends and loved ones.
You can hang them on a wall by screwing in the holes then use the plugs provided or they look great sitting on a table or window sill.
All signs have been carefully treated with polyurethane to protect them.
Size can vary 17-18" long by 3-5" wide.
If you have a favorite saying you do not see please let me know and I would be happy to make it for you.
Feel good about doing business with Endless Laser Engraving, re-inventing what we can, to help our environment.
All Winey Guys products are created from recycled wine barrels. Since all barrels are unique in size, character and color, there are slight differences among like products. These variations do not affect the function or durability of Winey Guys products, but do add a one of a kind touch to each piece we create. Enjoy!
** Disclaimer **
All proofs and some of our listings have been designed/created on a computer. Due to the nature of natural wood, the finished product will vary from piece to piece and won't look exactly like the computer proof or listing.